Relax with friends or family at Allevard in Isère
Recreational Activities at the Clair Matin's Campsite
Vacation means: to relax with family or friends, to stroll in the sun, to take part in our entertainment and activities or those of the Allevard region.
Swimming pool and Paddling pool
BBQs, Meals, Evening events ...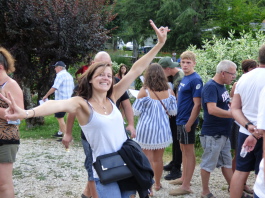 For your great pleasure, our swimming pool (17m x 7m) and our paddling pool (7m x 7m) dedicated to the youngest are open from mid June to mid September.
... Giant barbecues, theme dinners, great "boules" contests and sangria, the volleyball tournaments, parties and dance, bingo etc ...
Activities for children
Our activity leader supervises your children for free every afternoon from Monday to Friday.
Meals at the campsite
Giant barbecue followed by a party, bring your food and meat, we take care on the grill and cooking!
Change your state of mind during your stay!
Vacation also means to change one's habits: Our snack bar is there for you from breakfast until late in the evening (during the whole season) ... You can choose to eat on site or to take your meal away, Bread Deposit All Season.